The Henry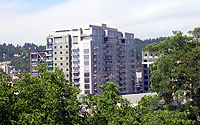 1025 NW Couch Street
Portland,
OR
97201
Price Range: $400,000 – $2,000,000
Square Footage: 700 – 3,000 sqft
The Henry is a 15-story building, adjacent to the Portland Armory. Eleven stories of luxury condos sit upon three floors of parking and retail spaces. It is located in the Pearl District, amongst The Brewery Blocks. Security and concierge service.